Men's Shoe Repairs
Vic Davis Shoe Repairs has built a well deserved reputation as one of West Sussex's finest Cobblers.
At Vic Davis we pride Ourselves in the Service we provide to our Customers, the Quality of our Repairs and the attention to detail we provide.
We will cater for all your needs regarding leather & shoe repairs and provide services from simple re-heeling to the complete re-building of mistreated shoe-ware.... to While You Wait repairs.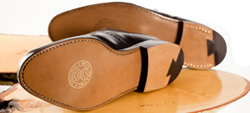 Unlike a lot of "Pop in" Shoe Repairers who really only want your Quick repairs, we can talk you through all aspects of your repair, giving you advice on the best materials to use and providing you with fixed price repairs. We can do this because we have been doing this for over 30 years. We are bringing the word 'Cobblers' back into the High Street.
We will even Text You when your repairs are ready for collection.
We pride ourselves and our ability to carry out repairs on most shoes and finishing of a very high standard.
Services
Our services include but are not limited to:
- Boot repairs
- Zip repairs boots, such as UGG, Riding, Walking boots etc
- Leather patches
- General alterations and adjustments
- Heel repairs including complete heel replacement
- Hand channelling and stitching
- Soling (leather, rubber, dainite, commando, etc) - we are specialists in long soles (replacing the entire base of the shoe)
- Specialist repairs to Goodyear Welted footwear using oak bark leather
- Bag repairs
- Relining ladies bags
- Strap making/repairs
Vic Davis specialise in
New full length leather sole and heel, including re corking and replacement shank, polished uppers, back counters, insox, rewelt's and any other work included i.e. patching, replaced eyelets.
As soon as the shoes enter our Shoe Repair Centre they undergo a full examination to determine the extent of the repair service they will require including inner board, linings, seats, welts, uppers and finally the soles and heels, all of which can be repaired in house.