Wedding Dress And Formal Wear Cleaning Service
Your wedding dress is probably the most important dress of your life. It carries the most beautiful memories of your life and deserves to be cleaned and restored in such a way that whenever you look at it ,touch it or try it on again it can take you right back to your big day.
Here at Vic Davis we specialise at taking care of such a valuable garment. We have a 5 stage process:
1. The dress is first inspected thoroughly.
2. It is then treated for any stains with appropriate solvents.
3. Thereafter different types of cleaning techniques are used depending on the dress material and its details, These includes different cleaning agents, hand cleaning, wet-cleaning and of course dry-cleaning.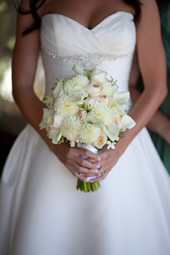 4. Once we are completely satisfied with the result, the dress is carefully hand pressed.
5. Your beautifully restored and cleaned dress is then placed in a bridal box wrapped in acid free paper to protect it from any damage and harmful environment. Alternatively it can be covered in a bridal suit.
We also carry out the same process on Dresses, Ball gowns, Tuxedos and other Formal Wear as they are typically worn only occasionally (if more than once!) and are often made of particularly delicate or expensive materials.