Shoe Repairs At Vic Davis
Here at Vic Davis we have several years of experience, on all types of shoe repairs. Our In-House Cobbler is one of the finest in his profession.
Vic Davis offer a within the hour shoe repair service, so that many shoes can be repaired whilst you wait - perfect for your lunch hour. If that is not suitable, shoes can be dropped off at any point in the day and collected at the end of the day at your convenience.
We only use the best products and materials available. This ensures the quality of our work is not compromised.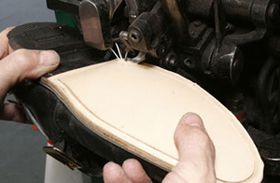 Soles and heels can be repaired, on both men's & ladies shoes, in either high heels, moulded soles, through leather soles. We can stretch shoes, replace welts, metal blakeys…..the list is endless.
We also carry out many different bag repairs on site. Whether it be leather handbag, zips, wallet linings or rucksacks tear - it can be fixed.
No job is too big or small.
So please pay us a visit and we'll be more than happy to help!
Key Cutting Service
No matter what your key cutting requirements, Vic Davis will help you with a quick, effective and comprehensive key cutting service. All of the keys we cut are done so by trained and experienced professional locksmiths, and we carry out this work to a very high standard.

We are able to cut most of the usual desk and cabinet keys to code using our computerized key cutting apparatus. In the unlikely event that a key we have is not able to be cut to code, we can order the key direct from the key manufacturer.
This list is by no means exhaustive, so if you have a key that you need a duplicate of, just call or visit us for more information.